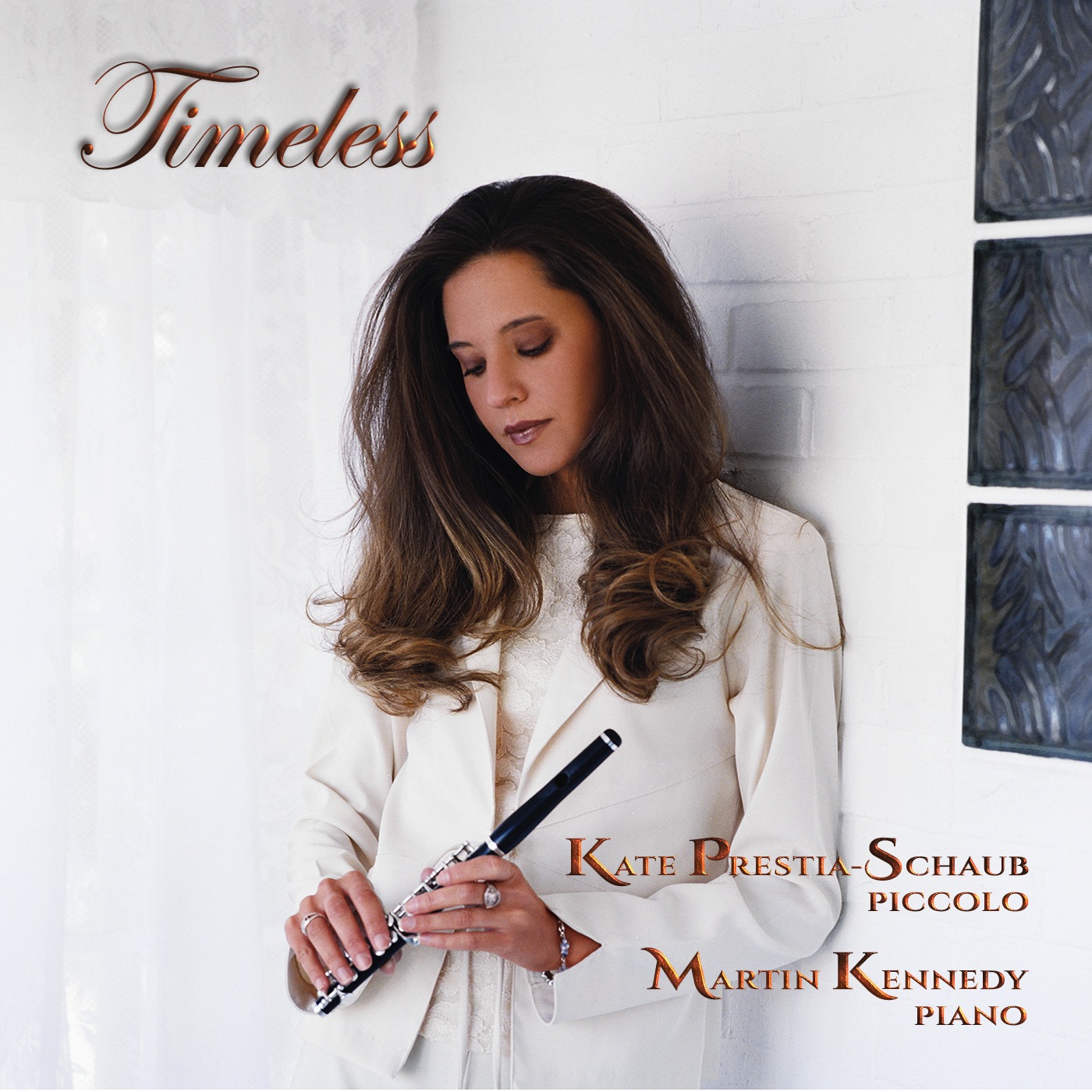 Audiophile Audition
January 26, 2014
How can you listen and not be happy?
I admit the concept of a piccolo recital has never occurred to me. I have never heard a flutist do an all-piccolo program; this instrument being notoriously difficult to control. I think if all piccolo players were as skilled as Ms. Prestia-Schaub, there would be more programs like this and why not?
Kate Prestia-Schaub is an amazing performer who trained at Indiana University and the University of Southern California. She is gifted with a beautiful tone and can actually make the "little flute" sound rich and full-bodied in the mid-register. Her technique is very impressive and she has, accordingly, won numerous competitions for her expertise for the past twenty years. To her credit, she has made finding and developing new repertoire for the piccolo her mission. On this album alone the works by Dorff, Lesemann and Kennedy were all written specifically for her.
Some amazing playing notwithstanding, the music in this collection is reason enough to take interest. Some of the pieces herein are genuinely – perhaps, surprisingly – lyrical and beautiful to take in. In this regard, the set opens with the simply gorgeous, somewhat Celtic inspired Air by Australian Barry McKimm. Michael Daugherty's The High and the Mighty is not what we have come to expect from Daugherty in this piece that also requires alternate techniques including flutter tonguing. Daniel Kelly's Passage is another straight up melodic beauty from this young New York composer.
One particular surprise is the Slow Music for Piccolo Alone by Frederick Lesemann, a long time composer in residence at USC. One would not think that solo piccolo would come across as soulful and lyrical but, indeed, this piece – and Prestia-Schaub's playing – give it a haunting almost Pan-flute-like feel.
The works by Daniel Dorff and Steve Kujala provide a very different feel. Dorff's Flash! is indeed, "flashy" taking full advantage of that stereotypical bubbly upper register of the piccolo and plenty of trills to be had in a somewhat jazzy context. …  Steve Kujala's Eurythmionics is the longest and, in many ways, the most complex work on this program with a jaunty, jazz feel throughout that I found most enjoyable. …
The remaining two works on this program stand out as being wholly unlike the others in the set. Martin Kennedy's Desplazamiento (Spanish: 'movement' or, literally, "displacement") is a very frenetic little work that does contain some Latin rhythms and brief references to classical and pop works. This work was originally written for piccolo and orchestra. Mr. Kennedy was trained at Indiana University and is also a highly skilled pianist who does a wonderful job throughout this program with Ms. Prestia-Schaub. Timeless by Kenneth Benshoof is a rhapsodic work that has a very exotic and more jazz-inspired sound to it than some of the other works here. This is a very attractive work. …
This really is a very nice program that you cannot help but be uplifted by. Kate and Martin's playing is just exquisite and all the selections are very atmospheric and buoyant. As I said, I would not have envisioned an all-piccolo program but this album makes you want to hear another; preferably by these same gifted performers!
~ Daniel Coombs
The Flute View
September 3, 2013
The premise of Timeless for Piccolo and Piano featuring Kate Prestia-Schaub and Martin Kennedy is to offer the listener a broad spectrum of new music written for piccolo.
The album opens with "Air",  a haunting melody by Barry McKimm beautifully played by Kate Prestia-Schaub and Martin Kennedy, offering a delightful and enchanting prelude of what will follow.  The following piece is "Flash!" by Daniel Dorff, a charming and exquisitely virtuosic piece which showcases the piccolo's extremities and agilities.  Kate and Martin offer a fresh and delightful presentation that is masterfully performed.  This piece showcases Kate's nimble and flawless technique.  Next on the album is "Slow Music for Piccolo Alone" which highlights Kate's expressive sensitivities on the piccolo.  "The High and Mighty" offers another moving work where Kate presents both luscious and expressive lines as well as magically dramatic moments by implementing interesting uses of alternate piccolo techniques and a wonderfully brilliant finale.
"Passage" by Daniel Kelley is a haunting and lyrical piece which is exquisitely played by Kate Prestia-Schaub and Martin Kennedy. "Desplazamiento" by the pianist/composer, Martin Kennedy is a charming composition with tango and other Latin rhythmic influences.  Both Kate and Martin weave their expert enchantments with bravura and fiery  enthusiasm.  Although one does not typically associate piccolo sounds with Tango, in this performance, the performers bring spirited passion that leave the listener completely enthralled.
"Timeless" by Kenneth Benshoof is another lyrical masterpiece gracefully presented by Kate and Martin.  The grand finale is "Eurythmionics" by Steve Kujala which is where Kate demonstrates both her riveting technique as well as her bewitchingly soaring lines.  This work is the perfect closure in this enchanting and diverse menu of works for piccolo and piano.
I completely delighted in listening to the album as I found it both ravishing and alluring.  Kate Prestia-Schaub and Martin Kennedy offer a delightful assortment of exquisitely  performed works for piccolo and piano.  I hope more composers will feel inspired to continue to write works for this instrumentation.
~ Viviana Guzman
Fanfare Magazine
May/June 2014
Kate Prestia-Schaub is known for her virtuosity on both flute and piccolo. On this disc she plays contemporary music for solo piccolo, some of which was written expressly for her. … Composer Barry McKimm is a retired trumpeter and conductor from Melbourne, Australia, who now spends his time composing. His Air is exactly that, a beautiful song-like melody that Prestia-Schaub plays with enchanting lyricism. American composer Daniel Dorff is a sought-after expert on music engraving and notation as well as a well-recognized composer. His Flash, a lively, sparkling piece written for Prestia-Schaub, shows her masterful control over the possibilities of her instrument. Frederick Lesemann, who is on the faculty of the University of Southern California's Thornton School of Music, wrote Slow Music for Piccolo Alone for Prestia-Schaub. Her playing on this track shows her ability to convey emotion with this rather unusual solo instrument. It also introduces a pleasant change of pace that helps keep the listener's interest.
The High and the Mighty by American composer, pianist, and teacher Michael Daugherty is a most expressive work that makes use of interesting rhythms and intriguing instrumental techniques. … Daniel Kelley's enchanting Passage is a lyrical invitation to relaxation at the end of a stressful day. When Prestia-Schaub's accompanist, Martin Kennedy, wrote Desplazamiento (Changing Location) for her, he used various Latin American rhythms including a slow, languorous, inviting tango. His music shows off the piccolo's lush low notes as well as its resounding highs. Steve Kujala's Eurythmionics is an intense and technically difficult piece, but Prestia-Schaub plays it with such a facile technique that it sounds easy. She gives a terrifically fluent performance that shows her masterful virtuosity. The piece provides an invigorating finale for this recording.
I really enjoyed the piccolo playing on this disc. … Most important is the music of the piccolo, and that is truly beautiful. Prestia-Schaub is a fine technician who communicates her art to her audience. I think those who love the piccolo and the flute will want to hear her play these delightful contemporary works.
~ Maria Nockin
Music Collective
September 18, 2013
Timeless is Kate Prestia-Schaub's debut album for piccolo and piano. Overall, she exhibits masterful control, lyricism, and virtuosity. The piccolo, which is often seen as the flashy member of the band or orchestra, is seen here as a solo instrument that delivers flash but is also sensitive. Of particular interest is Prestia-Schaub's low register, which is quite lush. In addition to her impressive playing, she is helping to add substantial new works to the piccolo repertoire; three of the works on this album (Dorff, Lesemann, and Kennedy) were written specifically for her.
The first work on this album is "Air" for piccolo and piano by Barry McKimm. "Air" is actually the second movement of McKimm's Piccolo Concerto, written for Frederick Shade, principal piccolo with the Melbourne Symphony Orchestra. This is a lyrical, melodic work that serves as a solid opener to this album.
"Flash!" for piccolo and piano by Daniel Dorff lives up to its title, featuring lots of fast scales, a catchy melody, and frequent forays into the high register. Prestia-Schaub's performance is convincing and makes the work sound easy.
The next work, "Slow Music for Piccolo Alone," is indeed slow but intense.
"The High and Mighty" in two movements was inspired by air travel in the years after World War II. The first movement features a beautiful lyrical melody, which includes pitch bends and flutter tonguing. The second movement begins with a piccolo cadenza, which then turns into a bossa nova.
"Passage" begins with a lyrical section, which is followed by a more active section. It's an inviting work that draws in the listener. Kennedy's
"Desplazamiento" features tango rhythms and motives. It is rhythmically complex and well-executed.
The title track of this album is introspective and lyrical. Quotes from the jazz standard "Embraceable You" give "Timeless" a jazzy feel.
"Eurythmionics," the last track on this album, is a technically challenging work that Prestia-Schaub manages to make sound easy. It ends the album with a positive flourish.
~ Tammy Evans Yonce 
American Record Guide
March/April 2014
This all-piccolo release offers an assortment of recent works. …  Three of these selections were written for Prestia-Schaub, and you can see the program notes on her web site, K8trills.com. They're worth looking up; each composer has contributed an excellent paragraph or two. … The deconstructed tango 'Desplazamiento' by Martin Kennedy deserves special mention, but all these pieces are worth hearing.  This music is new to me, but the conviction and polish in both players mark these performancesas undeniably superb. …
~ Todd Gorman
Flute Talk
October, 2013
Kate Prestia-Schaub's new album Timeless features eight works for solo piccolo and piccolo and piano. She is a promoter of new music for the piccolo, and this album features three works that were written for her: Flash! by Daniel Dorff; Slow Music for Piccolo Alone by Frederick Lesemann; and Desplazamientoby Martin Kennedy. Other composers on the album are Barry McKimm, Michael Daugherty, Daniel Kelley, Kenneth Benshoof, and Steve Kujala. Her playing is lyrical and her sound is quite engaging. Prestia-Schaub is an active performing and recording artist and studied with Tom Robertello and Kate Lukas and Indiana University and Jim Walker at the University of Southern California. Her early studies were with her mother, well-known flutist Maralyn Prestia. She is the flute instructor at the Idyllwild Arts Academy and teaches privately in several public schools in the Temecula, California area. (www.k8trills.com/timeless).
~ Patricia George
WSCL Radio Blog
This is a CD of recital works for piccolo + one (piano), and solo works, almost all new works by living composers. Prestia-Schaub is passionate about expanding the repertoire for piccolo, and, having won many awards, she is placed perfectly to do so.  She also receives rave reviews as a supportive and inspiring teacher.
Powell Flutes Interview
Interview on Friday, August 23, 2013
This week, we had a chance to chat with Powell player Kate Prestia-Schaub about her new CD, Timeless.  Kate collaborated with composer and pianist Martin Kennedy, who joined the recording project as Kate's artistic partner.  Timeless is Kate's debut CD recording, but it has been in the works for over 10 years.  We were able to find out more about the history behind the recording when we spoke with Kate…
In 2002, Kate was ready to record her first CD.  She had all the repertoire lined up and began rehearsing with pianist, composer, and recording engineer Steve Kaplan in Malibu, CA.  About two weeks before the recording was scheduled to commence, Steve was killed in a plane crash.   She was heartbroken, not just because of the musical partnership – but he was also a close family friend.  Feeling the need to have space from her loss, Kate discontinued the work on this recording.
Shortly after the project was discontinued, Frederick Lesemann wrote Slow Music for Piccolo Alone for Kate, much to her surprise.  Dr. Lesemann was Kate's orchestration professor at USC, and she premiered this piece on her final Master's recital at USC in Los Angeles in 2003.  Slow Music is also included on a recording of Dr. Lesemann's works to be released later this year.  After hearing Kate perform at a NFA convention in 2005, composer Daniel Dorff contacted Kate with an idea for a new piccolo and piano showpiece he had started for her.  In 2009 Flash! was completed and premiered at the International Piccolo Symposium.  Flash! also won the IPS composition competition for 2009.  Finally, in 2010, Martin Kennedy contacted her with yet another newly formed idea for a piece!  Once Martin's Desplazamiento was completed, it was premiered at the Mid-Atlantic Flute Festival in 2013.
Realizing that Kate had accumulated three incredible new pieces for piccolo, and that they would become "timeless standards" in the piccolo repertoire, she came back to the idea of recording.  She pulled out some of the repertoire from the 2002 project, and the new pieces that had been written for her fit perfectly in the mix; better even than the original plan!   Kate also realized that she had found a monstrous pianist and good friend in Martin, and asked if he would come out to California and record the album.
Martin Kennedy came out to California from St. Louis this summer to record the CD with Kate.   With only a one-week time span in which to work, Kate and Martin were able to complete the project on time, before Martin's return.  Kate told us that they were able to do a little bit of rehearsing, recording, and mixing each day.  The CD was produced and recorded by the incredible Peter Sprague at his studio in Encinitas.
Looking back on the process of recording the CD, we asked Kate about the most memorable elements.  She told us,
Martin brought a ton of energy to the project, and he has had a lot of experience in recording.  Being a composer, Martin was able to give me a bigger perspective on all of the pieces, which helped me grow musically.  We were able to get his piece exactly the way he wanted it.  It was humbling to have the opportunity to speak with all the composers; I could attempt to make all their music the way they wanted it – not just the way I wanted it.  I could also bring the music to life a little better because I knew the people it came from!"
The recording process also had a strong impact on Kate in the sense that she was able to truly reflect on her own playing.  She elaborated on this particularly monumental element of the process:
You're your own worst critic.  You want to fix everything.  During the editing process, I listened so carefully to every detail – each rhythm, every interval, runs, expression markings, balance; everything! There is an appropriate amount of criticism needed to create a good product, but at a certain point, you have to stop picking everything apart, and just enjoy the music.  I had to learn to let myself be human.  There's definitely a huge learning curve in the process – learning how much to fix and how to simply let it be.  Now that I have given it some space, and don't have to correct anything anymore, I'm really happy with how it turned out.
Timeless is available through Kate Prestia-Schaub's website,  CD Baby,  iTunes,  and  Google Play.
Preview the tunes on Kate Prestia-Schaub's facebook page.  For more information on Kate, visit her Powell Academy Page, where you can also schedule lessons with her
~ Rebecca Weissman